Hey there!
We're excited to have Fullmetal Alchemist Database Wiki as part of the Wikia community! There's still a lot to do, so here are some helpful tips and links to get your wiki going:
All of the above links are a great place to start exploring Wikia. If you get stuck or have a question you can't find the answer to -- please contact us here. But most importantly, have fun! :)
Happy editing!
--
Trella
Background
Edit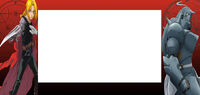 How is this? You can see it in use here--God23:50, October 3, 2012 (UTC)

Greetings,
I was referred here by Arrancar109 since the other FMA wiki is so poorly managed. I've seen what you've helped create with the Bleach wiki and I feel a series as good as FMA deserves a wiki that is every bit as complete and in depth as the Bleach wiki is.
Looking at what you have already created, it looks like you're going for character and concept pages first, but I think I'm better equipped to handle the chapter/episode summaries. Unfortunately, I don't have access to the official translations of the manga, unless such a resource exists online (though the scanlations are pretty good for FMA - the only thing I'd likely miss working from those is modifications made like the Greed crucifix issue). However, I don't want to go about this haphazardly. I have some ideas for a template of chapter and episode summaries (largely influenced by the Bleach wiki), which is the logical first step for me. (I am a fan of standardized formatting.) Would you be interested in discussing this further?
Rashkavar (talk) 23:32, November 25, 2012 (UTC)
Are you the only one editing this wiki? You need help, but I have trouble writing references, any tips on that? Kamikaze839 (talk) 01:57, February 8, 2013 (UTC)